Stuart Davis
WARNING
You are viewing an older version of the Yalebooks website. Please visit out new website with more updated information and a better user experience: https://www.yalebooks.com
Edited by Ani Boyajian and Mark Rutkoski; With essays by William C. Agee and Karen Wilkin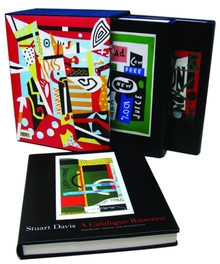 View Inside
Format:

HC - Set with Slipcase


Price:

$300.00
The highly anticipated, definitive reference on Stuart Davis's paintings, watercolors, drawings, and published illustrations

Stuart Davis (1892–1964) made a mark on the art world early in his career, first with his Ashcan works and then with his highly personal version of Cubism, which firmly established American modernism as a force that could rival its European counterpart. Over the course of six decades, Davis produced artworks that drew inspiration from the European modernists but were deeply rooted in the popular culture of the United States. Jazz music and hipster talk, vaudeville stages, city streetscapes, New England fishing villages, gasoline stations, store fronts, and commercial packaging and advertising images were among the sources that infused his art with energy, bringing crisp edges, radiant color, and syncopated rhythms to a vast body of paintings, watercolors, and drawings.
Documenting the life's work of this prolific and highly influential artist—who affected almost every development in American art from second-generation Ashcan realism around 1912 to color field and geometric painting in the 1960s—is a monumental achievement. In these three volumes, the editors have catalogued 1,749 artworks by the artist—including more than 600 works never previously illustrated—providing extensive documentation and information about each one. A detailed chronology of Davis's life, as well as an enlightening discussion of the compositional relationship between certain works spanning his oeuvre, rounds out this study. Exquisitely designed and produced, Stuart Davis: A Catalogue Raisonné will be the definitive reference on the artist's work for many years to come.


Published in association with the Yale University Art Gallery
Ani Boyajian and Mark Rutkoski are the editors of the Stuart Davis catalogue raisonné project. William C. Agee is Professor of Art History at Hunter College, The City University of New York. Karen Wilkin has written numerous books on 20th-century art, including Color as Field.
"Anyone who traces this course will be exhilarated. With utmost quality, it allows for an immersion that cannot be achieved in even today's largest and finest exhibitions."—Alan Artner, Chicago Tribune
"In this veritable museum-in-a-box set, the artist's 1,749 known works are fully cataloged and described in an impeccably scholarly manner. . . . In terms of its definitiveness, this volume cannot be surpassed. As art historical erudition, it is a triumph well worth its price."—Library Journal
"The evolution of Davis's sensibility as well as the chronology of his life and the complete ordering of his known work are all expertly presented in Stuart Davis. This massive compilation exponenetially expands our understanding of Davis's career. Boyajian and Rutkoski exhaustively describe 1,749 paintings, watercolors, gouaches, drawings, and other works on paper, more than 600 of which have never been illustrated before. They situate each work in the artist's oeuvre and milieu and discuss the circumstances of its creation."—Avis Berman, Artnews
"This handsome three-volume set of Stuart Davis's oeuvre is an epic work of art itself. Beautifully presented and replete with well-reproduced images, it lays out and chronicles, with an exacting eye, the entire Davis production and working life. Scholars, students, artists, and art historians alike will find the set a goldmine. . . . Exhaustively researched and scrupulously detailed. . . . Highly recommended."—Choice
Recipient of a 2007 Professional and Scholarly Publishing Honorable Mention for Excellence in the Art and Art History Category, given by the Association of American Publishers.
Winner of the 2007 George Wittenborn Memorial Book Award, given by the Art Libraries Society of North America.
ISBN:
9780300109818
Publication Date:
October 28, 2007
Publishing Partner:
Published in association with the Yale University Art Gallery
9 1/2 x 12
60 b/w + 100 color illus. (vol. 1); 950 b/w + 400 color illus. (vol. 2); 210 b/w + 390 color illus. (vol. 3)