Lost for Words
WARNING
You are viewing an older version of the Yalebooks website. Please visit out new website with more updated information and a better user experience: https://www.yalebooks.com
The Hidden History of the Oxford English Dictionary
Lynda Mugglestone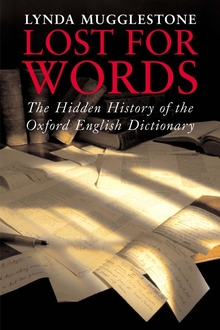 View Inside
Format:

Cloth


Price:

$30.00
The untold story of the complex word battles fought by the creators of the first Oxford English Dictionary.

The Oxford English Dictionary (OED) holds a cherished position in English literary culture. The story behind the creation of what is indisputably the greatest dictionary in the language has become a popular fascination. This book looks at the history of the great first edition of 1928, and at the men (and occasionally women) who distilled words and usages from centuries of English writing and "through an act of intellectual alchemy captured the spirit of a civilization."

The task of the dictionary was to bear full and impartial witness to the language it recorded. But behind the immaculate typography of the finished text, the proofs tell a very different story. This vast archive, unexamined until now, reveals the arguments and controversies over meanings, definitions, and pronunciation, and which words and senses were acceptable—and which were not.

Lost for Words examinesthe hidden history by which the great dictionary came into being, tracing—through letters and archives—the personal battles involved in charting a constantly changing language. Then as now, lexicographers reveal themselves vulnerable to the prejudices of their own linguistic preferences and to the influence of contemporary social history.
Lynda Mugglestone is fellow in English at Pembroke College, Oxford. She is the author of Talking Proper: The Rise of Accent of Social Symbol (2nd ed, 2003), and has published widely on nineteenth-century language and literature. She broadcasts regularly in the UK.
"The OED was one of the great creative enterprises of Victorian England. It is a real tour-de-force to make the words in the dictionary tell their own story."—Nicholas Barker
"Serious word lovers will appreciate its fascinating revelations."—Booklist

"Lost for Words . . . has plenty to fascinate the word nerd."—Lorien Kaye, Language
"By revealing the storied history behind the formidable text, Mugglestone brings to life the histories of our lexicon and of the key players who painstakingly saw it into type. . . . A fascinating history, not only of how the OED came to be but of the cultural, racial and gender biases of the period. . . . Bibliophiles who loved The Professor and the Madman will relish this account."—Publishers Weekly
"Uses previously unexamined proofs to examine debates over the meanings, usage, and pronunciations of words in the first edition of the OED."—The Chronicle of Higher Education

"[An] excellent history."—Peter Walpole, Virginia Quarterly Review

"Lynda Mugglestone is well qualified to undertake this much-needed research…[making] extensive use of unpublished archival material with a view to elucidating the process of the Dictionary's compilation." - Peter Gilliver, Archives
"I suspect that Lost for Words will send everyone scurrying back to the OED again, in one form or another. . . . Meticulous and rewarding."—James P. Hammersmith, Southern Humanities Review
ISBN:
9780300106992
Publication Date:
May 10, 2005
304 pages, 6 1/8 x 9 1/4
8 b/w illus.