An Interpretation of Religion
WARNING
You are viewing an older version of the Yalebooks website. Please visit out new website with more updated information and a better user experience: https://www.yalebooks.com
Human Responses to the Transcendent
Second Edition
John Hick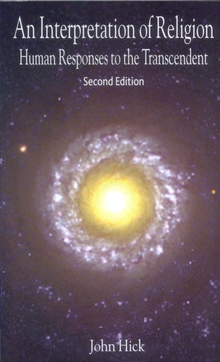 View Inside
Format:

Paper


Price:

$40.00
In this classic work, prominent religious philosopher John Hick presents a global interpretation of religion, arguing for a religious response to our ambiguous universe and showing how the world's different religions are culturally conditioned forms of that response. For this Second Edition, Hick addresses the major critics of his interpretation of religion, thereby enabling fresh discussion of his work.

Praise for the first edition:
"This book strengthens Hick's position as one of the most significant thinkers of the second half of the twentieth century. . . . I highly recommend [it] to students of philosophy, history of religions, and comparative studies, as well as theology."—Chester Gillis, Journal of Religion
"The most persuasive philosophical advocacy for religious pluralism ever written."—Yandall Woodfin, Southwestern Journal of Theology
"[This work] evinces Hick's many virtues: ingenuity; fairness toward all arguments; deference to the standards of analytic philosophy; familiarity with Eastern as well as Western religions; and, not least, a clean, clear prose."—Robert A. Segal, Christian Century
"A leader in interfaith interpretation of religion, Hick has written what will probably become a classic. . . . Clear, readable, and comprehensive."—Library Journal
"Should be read by the adherents of all faiths."—Rabbi Dan Cohn-Sherbok
John Hick is a Fellow of the Institute for Advanced Research in Arts and Social Sciences at the University of Birmingham (U.K.) and has held appointments at the Claremont Graduate University, California, the University of Cambridge, Princeton Theological Seminary, and Cornell University. His many previous books include Disputed Questions in Theology and the Philosophy of Religion, published by Yale University Press.

"A leader in interfaith interpretation of religion, Hick has written what will probably become a classic in the philosophy of religion. Clear, readable, and comprehensive. . . . Highly recommended."—Library Journal
 



"John Hick has written a masterly account of his view of religion and religions. It is philosophically astute and religiously wide-ranging. . . . It is a fine contribution to debate about the world religions and their role in human history. Readers will learn a great deal from his marshalling of evidence and ideas from the different traditions."—Ninian Smart, University of California, Santa Barbara

"A major breakthrough in the understanding of the world's traditions and should be read by the adherents of all faiths."—Rabbi Dan Cohn-Sherbok
 

"A movement has been growing among Christians, gaining of late in numbers and in strength, to appreciate the faith of other religious groups, recognizing the spiritual depth and the divine grace made available through other traditions as through the Christian. Lacking until now, however, has been a philosophically sophisticated statement of the position. Here it is. The rest of us cannot but be grateful."—Wilfrid Cantwell Smith
 

"The description of Buddhism in this book is excellent and trustworthy."—Yoshinori Takeuchi

"This Book is a unique contribution to the development of a field theory of religion. It justifies religious belief on the basis of our experience, especially religious experience, and points out the existence of resources within the major world religions to resolve the contemporary urgent problems of religious pluralism. The author's new attempt is very valuable for all world religions including Buddhism."—Masao Abe

"This book will certainly help to initiate a new thinking and to open a new intellectual space for a radical reappraisal of the religious dimension in human existence."—Muhammed Arkoun
 

"What is most impressive about this book is the comprehensiveness of its scope. Hick draws from the fields of theology, philosophy, history of religions, and ethics. . . . This book strengthens Hick's position as one of the most significant thinkers of the second half of the twentieth century. . . . I highly recommend [this book] to students of philosophy, history of religions, and comparative studies, as well as theology. The book is coherent, provocative, readable, and scholarly. It has the patina of decades of careful scholarly reflection. Certainly, it is not the final book from John Hick, but it is the most comprehensive, bold, and challenging work. I think that it will also be the most enduring."—Chester Gillis, Journal of Religion

"An Interpretation of Religion is distinguished by its breadth and erudition and by its author's willingness to examine religion as across-cultural phenomenon."—Garrett Green, Theology Today

"The most persuasive philosophical advocacy for religious pluralism ever written. John Hick's knowledge of the various models of religion is massive and impressive. Perhaps most modern philosophers of religion would consider him the authority in the field."—Yandall Woodfin, Southwestern Journal of Theology

"A masterful survey of world religions. . . . Writing from a Christian point of view, Hick is sympathetic toward other world religions and clearly argues for the validity of a faith-response. The book is highly recommended for college and seminary libraries as well as for public libraries seeking to expand resources for readers interested in religion on a world scale."—Choice

"[This work] evinces Hick's many virtues: ingenuity; fairness toward all arguments; deference to the standards of analytic philosophy; familiarity with Eastern as well as Western religions; and, not least, a clean, clear prose."—Rogert A. Segal, Christian Century

"A leader in interfaith interpretation of religion, Hick has written what will probably become a classic in the philosophy of religion. [The book is] clear, readable, and comprehensive."—Library Journal

"[Readers] will be drawn deeply into the politics, pain, frustration and even the courage, humor and hope present in this fascinating and tragic part of the contemporary world."—Charles A. Kimball, The Christian Century

"For over 30 years Hick has explored problems in the philosophy of religion. His developing understanding of the significance of the multiplicity of religious traditions, and of their epistemic parity . . . has moved him from a fairly conservative approach to a neo-Kantian pluralism. This text . . . creatively synthesizes, thoughtfully nuances, rarely repeats, and imaginatively extends his earlier work. It is a masterpiece, destined to be a (if not the) classic of its type."—Terrence W. Tilley, Theological Studies

"Hick has drawn together his many provocative insights into a masterful summary statement."—Peter Hodgson, Religious Studies Review

"Hick's Interpretation of Religion offers an appealingly simple and comprehensive argument for world ecumenism. . . . The argument for the pluralistic hypothesis is lucidly presented, while it controls a broad range of materials and uses simple language that should appeal to nonphilosophically trained readers."—Ellen T. Charry, Journal of Ecumenical Studies

"Professor Hick is . . . to be warmly commended for his bold and comprehensive undertaking. His work is very clearly written and is well organized and structured. The main issues are argued forcefully yet with a rather quiet, assured open-mindedness. It is certainly a fine and important work 'of and for its time.' . . . An Interpretation of Religion is surely among the best of its kind. It is the work of a generous philosophical mind looking closely and broadly at what it is reasonable to hold with regard to religious beliefs, values, claims, and experience itself."—Eliot Deutsch, Philosophy East and West

"The book is delightful to read."—Donald Wiebe, Toronto Journal of Theology

"Those who work through this lengthy book will be richly rewarded. They will be drawn deeply into the politics, pain, frustration and even the courage, humor and hope present in this fascinating and tragic part of the contemporary world."—Charles A. Kimball, The Christian Century

"A monumental achievement in the philosophy of religion which, I believe, will become a classic. . . . Hick's lucid presentation has moved the discussion of the central issues in the philosophy of religion a large step forward, and for this we are all in his debt."—Owen C. Thomas, Anglican Theological Review

"An extraordinarily ambitious piece of work. . . . As a work of comparative religion, An Interpretation of Religion is an eloquently written, richly erudite piece. It also treats with fairness, and a striking degree of comprehension, many critical issues in the philosophy of religion."—Stephen Paul Foster, Modern Schoolman

ISBN:
9780300106688
Publication Date:
February 11, 2005
464 pages, 5.375 x 8.5