Encyclopedia of Opera on Screen
WARNING
You are viewing an older version of the Yalebooks website. Please visit out new website with more updated information and a better user experience: https://www.yalebooks.com
A Guide to More Than 100 Years of Opera Films, Videos, and DVDs
Ken Wlaschin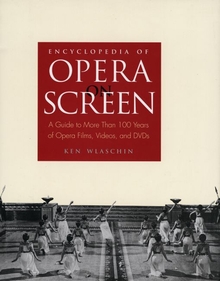 View Inside
Format:

Cloth


Price:

$85.00
This bountiful book is a comprehensive guide to the thousands of films, DVDs, and videocassettes featuring operas and opera singers from 1896 to the present. From ABC Television to Franco Zeffirelli, the encyclopedia is a storehouse of fascinating information for film and opera aficionados and casual browsers alike. Find answers to such questions as:
* What were the first operas filmed?
* Why did they make silent films of operas?
* Why was a pseudo-opera written for Citizen Kane?
* What was the title of Maria Callas's only film?
Organized alphabetically with more than 1,900 fully cross-referenced entries, the book casts a wide net that covers not only expected topics—operas, operettas, zarzuelas, composers, singers, conductors, writers, and film directors—but also the unexpected and offbeat—animated opera, first operas on film, puppet opera films, silent films about opera, and many other lesser-known topics. Encyclopedia of Opera on Screen illuminates the many intersections between opera and film as never before.
Ken Wlaschin is director of Creative Affairs and vice chairman of the National Center for Film and Video Preservation at the American Film Institute. Previously he was director of the National Film Theatre and London Film Festival for the British Film Institute.
"This fascinating book brings the world of opera on screen to your fingertips--an invaluable educational tool."—David A. Dik, Managing Director, Metropolitan Opera Guild
"Ken Wlaschin's encyclopedia is comprehensive, informative, readable, and user-friendly—the ideal reference for the opera lover with a passion for movie-going and a serious interest in film history. Bravo!"—E. Thomas Glasow, editor of The Opera Quarterly
"An impressively researched book, providing extensive and authoritative coverage of its subject matter."—John Walker, editor of
Halliwell's Film, Video and DVD Guide
and
Halliwell's Who's Who in the Movies
"This wondrous encyclopedia is an invaluable boon to all movie and opera buffs. I shall be referring to it frequently to slake my curiosity and to settle bets."—Tom Lehrer
"Definitive reference source"—Anthony Slide, Classic Images
"Wlaschin has done an enormous amount of research and his infectious enthusiasm for his subject shines through more than 1,900 entries."—Richard Fawkes, Classical Music Magazine
"Wlaschin's . . . material is so interesting, his enthusiasm so infectious [and] his comments so keen. . . . Open this book anywhere and something arrests the eye. . . . For anyone who cares about opera and film, this book is a seduction."—Stanley Kauffmann, New Republic
"Highly enjoyable "—Stanley Kauffmann, New Republic 
"Essential purchase."—Alan Blyth, Opera 
"A comprehensive guide to hundreds of films, videos and DVDs featuring opera singers and operas—or even parts of operas—from 1896 to the present day."—Opera News
"Monumental achievement."—Richard Fawkes. Opera Now 
"This important book will add immeasurably to our understanding of life and power during the Nazi era."—The Contemporary Review
"All manner of combinations of opera and film, no matter how fleeting or insubstantial, are to be found in the Encyclopedia of Opera on Screen."—Times Higher Education Supplement
"Ken Wlaschin's attempt to capture this history in one volume is a remarkable achievement."—Martin J. Smith, Times Literary Supplement
"Wlaschin doesn't just compile. He offers lively, controversial commentaries, and happily picks out his favorite films. . . . An exhaustively fascinating and highly readable treasure."—Whole Note
"This heroic one-man effort to catalog everything related to opera on film and video is well beyond impressive. Paging through it is an enjoyable and addictive experience that inspires one to head to the video store right away. This is an essential purchase for any library."—Library Journal
Received rating of "Outstanding" from 2005 University Press Books Committee

ISBN:
9780300102635
Publication Date:
July 11, 2004
896 pages, 7 1/2 x 9 3/4
63 b/w illus.