The Shape of Time
WARNING
You are viewing an older version of the Yalebooks website. Please visit out new website with more updated information and a better user experience: https://www.yalebooks.com
Remarks on the History of Things
George Kubler

Read this book online via the A&AePortal, our art and architectural history eBook platform. To learn more about how to access this book, please contact us.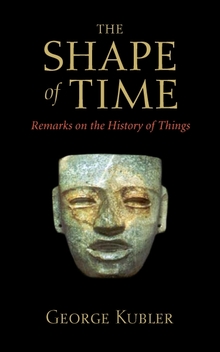 View Inside
Format:

Paper


Price:

$22.00
Also Available in:
Art ePortal
When it was first released in 1962, The Shape of Time presented a radically new approach to the study of art history. Drawing upon new insights in fields such as anthropology and linguistics, George Kubler replaced the notion of style as the basis for histories of art with the concept of historical sequence and continuous change across time. Kubler's classic work is now made available in a freshly designed edition.

"The Shape of Time is as relevant now as it was in 1962. This book, a sober, deeply introspective, and quietly thrilling meditation on the flow of time and space and the place of objects within a larger continuum, adumbrates so many of the critical and theoretical concerns of the late twentieth and early twenty-first century. It is both appropriate and necessary that it re-appear in our consciousness at this time."—Edward J. Sullivan, New York University

This book will be of interest to all students of art history and to those concerned with the nature and theory of history in general. In a study of formal and symbolic durations the author presents a radically new approach to the problem of historical change. Using new ideas in anthropology and linguistics, he pursues such questions as the nature of time, the nature of change, and the meaning of invention. The result is a view of historical sequence aligned on continuous change more than upon the static notion of style—the usual basis for conventional histories of art.

"A carefully reasoned and brilliantly suggestive essay in defense of the view that the history of art can be the study of formal relationships, as against the view that it should concentrate on ideas of symbols or biography."—Harper's.

"It is a most important achievement, and I am sure that it will be studies for many years in many fields. I hope the book upsets people and makes them reformulate."—James Ackerman.

"In this brief and important essay, George Kubler questions the soundness of the stylistic basis of art historical studies. . . . The Shape of Time ably states a significant position on one of the most complex questions of modern art historical scholarship."—Virginia Quarterly Review.
George Kubler (1912–1996) was Sterling Professor of the History of Art at Yale University. He is also author of The Art and Architecture of Ancient America (Yale).
"The Shape of Time is as relevant now as it was in 1962. This book, a sober, deeply introspective and quietly thrilling meditation on the flow of time and space and the place of objects within a larger continuum, adumbrates so many of the critical and theoretical concerns of the late twentieth and early twenty-first century. It is both appropriate and necessary that it re-appear in our consciousness at this time."—Edward J. Sullivan, New York University
"Kubler's telling of the history of things remains a key text, his vision a compelling mixture of the habitual and the poetic in human behavior. For him, human creativity is a constantly repeated attempt to refine answers to a set of questions that change only slowly. But this universal habit is punctuated by the great works of art, ways of doing and seeing that he compares to stars, influencing, shaping and illuminating even after they have been destroyed."—Neil MacGregor, The British Museum
ISBN:
9780300100617
Publication Date:
April 17, 2008
144 pages, 5 x 8