Three Thousand Years of Chinese Painting
WARNING
You are viewing an older version of the Yalebooks website. Please visit out new website with more updated information and a better user experience: https://www.yalebooks.com
Richard Barnhart, Yang Xin, Nie Chongzheng, James Cahill, Lang Shaojun, and Wu Hung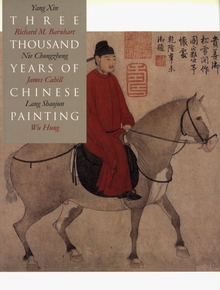 View Inside
Format:

Paper


Price:

$50.00
Also Available in:
Cloth
From Neolithic painted petroglyphs, early paintings on silk, and landscapes by twelfth-century literati to the traditional handscrolls being produced today, Chinese painting has always had the power to enthrall. This magnificent book, written by a team of eminent international scholars, is the first to recount the history of Chinese painting over a span of some three thousand years. Drawing on museum collections, archives, and archaeological sites in China—including many resources never before available to Western scholars—as well as on collections in other countries, the authors present and analyze the very best examples of Chinese painting: more than 300 of them are reproduced here in color. Both accessible to the general reader and revelatory for the scholar, the book provides the most up-to-date and detailed history of China's pictorial art available today.

In this book the authors rewrite the history of Chinese art wherever it is found—in caves, temples, or museum collections. They begin by grounding the Western reader in Chinese traditions and practices, showing in essence how to look at a Chinese painting. They then shed light on such topics as the development of classical and narrative painting, the origins of the literati tradition, the flowering of landscape painting, and the ways the traditions of Chinese painting have been carried into the present day. The book, which concludes with a glossary of techniques and terms and a list of artists by dynasty, is an essential resource for all lovers of, or newcomers to, Chinese painting.

Three Thousand Years of Chinese Painting is the inaugural volume in a new series, The Culture & Civilization of China, a joint publishing venture of Yale University Press and the American Council of Learned Societies with the China International Publishing Group in Beijing. The undertaking will ultimately result in the publication of more than seventy-five volumes on the visual arts, classical literature, language, and philosophy, as well as several comprehensive reference volumes.


Published in association with Foreign Languages Press, Beijing
Richard M. Barnhart is John M. Schiff Professor of Art History at Yale University. James Cahill is professor emeritus of the history of art at the University of California, Berkeley. Wu Hung is Harrie A. Vanderstappen Distinguished Service Professor in Chinese Art History at the University of Chicago. Yang Xin is deputy director and research fellow at the Palace Museum, Beijing. Nie Chongzheng is research fellow at the Palace Museum, Beijing. Lang Shaojun is director of the Fine Arts Research Laboratory at the Institute of Fine Arts, Chinese Academy of Arts, Beijing. James Peck is director of the U.S.-China Book Publication Project and executive editor of The Culture & Civilization of China series.
A main selection of the Book-of-the-Month Club and a dividend selection of the Book-of-the-Month International Club
"It is a valuable resource and the extensive notes and bibliography offer material for those who are eager for further study of Chinese painting."—Arthur M. Sackler, Art Documentation
"An unusually beautiful book that will delight general readers and scholars alike."—Susan Schwalb, Art New England
"A valuable addition to our knowledge of Chinese art and a worthy addition to your library."—Raymond J. Steiner, Art Times
"The most comprehensive survey of Chinese painting yet attempted. Featuring a refreshing selection of lesser-known masterpieces from Chinese collections, the book succeeds admirably in conveying the richness and variety of figure painting, landscape, and flower-and-bird painting through hundreds of images and a highly readable narrative."—Rachel King, Arts and Antiques
"With patient guidance from six top scholar essayists and more than 300 photographs of paintings from far-flung collections, Three Thousand Years of Chinese Painting . . . is the book to buy . . . for total immersion in one of the world's great art traditions. Don't let the heft of this volume turn you off. Turn to almost any page and you'll be rewarded by insightful descriptions of what you're looking at."—Cathy Curtis, Bookshelf
"An astonishing feat with much new to say to novice and specialist alike. . . . Broad surveys in the area have, of course, appeared many times before, but this one outclasses them on virtually every count."—Alan G. Artner, Chicago Tribune
"[This book] in 400 large, lavishly illustrated pages, is an innovative, exciting, erudite volume, the first to tell this long history of enthralling Chinese paintings, from Paleolithic times, from painted petroglyphs to modern handscrolls in the traditional style. This magnificent book is unique in drawing on many resources hitherto inaccessible to Western scholars, for its six, eminent, authoritative contributors. . . . This finely produced and strongly bound book is indispensable for all who enjoy, or wish to appreciate Chinese painting."—Byron Ireland, Day by Day
"Exotic, beautiful, beguiling, and so luxuriously fat that you need four hands to hold it."—Financial Times & Weekend
"One of the world's longest-lived and richest artistic traditions is traced here, from ancient petroglyphs found in caves, through centuries-old handscrolls and paintings on silk, to the art of modern China. . . . The book includes more than 300 examples of Chinese painting and scholarly texts by six authorities, three of China and three from the United States."—Stanley Abercrombie, Interior Design
"The history of this exceptional art, its practitioners and their technique, and the metaphorical significance attributed to the artworks are all discussed in illuminating detail, ending with the contemporary neoclassical works that draw on tradition but add a modern flavor. The text is accompanied by 300 fine color and 25 black-and-white reproductions of extraordinary works, many never before available in the West. Consider this the Janson's of Chinese painting."—Kirkus Reviews
"One of the most complete and best-illustrated works on the topic of Chinese pictorial art available to both general readers and scholars."—Library Journal
"The book to buy (or borrow) for total immersion in one of the world's great art traditions. . . . Turn to almost any page and you'll be rewarded by insightful descriptions of what you're looking at."—Cathy Curtis, Los Angeles Times
"[A] magisterial compilation of Chinese art history, from Paleolithic cave carvings to modernistic landscape scrolls."—Parade
"This is a remarkably fine piece of synthesizing, co-operating, and book-making. . . . One of the year's greatest publishing bargains."—Douglas Fetherling, Rotunda
"It is a daunting task to contain this vast subject within the covers of one volume, but the six authors of this Sino-American venture succeed in doing just that. They rewrite the history of Chinese painting wherever it is found—in caves, temples, or museum collections—from Neolithic times to the present day."—Caroline Blunden, The Art Newspaper
"A team of scholars has produced the essential guide to one of the world's greatest painting traditions, from ancient petroglyphs to handscrolls made in modern times."—Boston Sunday Globe
"That any such scheme on so large a scale should just be beginning in this area of restraint—that such optimism still lives on—is worth rejoicing in."—Douglas Fetherling, Citizen's Weekly Books
"A comprehensive history and reference that not only presents the best of Chinese painting but also explains its conventions and traditions. It includes a glossary of terms and a list of major painters by dynasty. In short, it's the best starting point for anyone who wants to learn about Chinese art."—Philadelphia Inquirer
"Gorgeous, abundantly illustrated. . . . A feast for the eye!"—Virginia Quarterly Review
"This is an extraordinary book and, given the West's limited acquaintance with the art it contains, a vitally necessary one."—Wan-Go Weng, Wall Street Journal
"This is the most comprehensive and up-to-date single volume account of Chinese painting from prehistoric times to the present. For some time to come, it will be an indispensable work for students and the general reader who wishes to gain an in-depth knowledge of Chinese painting. Not least among the merits of the book are the numerous illustrations and discussions of important paintings in Chinese museums hitherto little known outside China. This book, which is the first in the Culture and Civilization of China series, augurs well for the success of this significant and far reaching collaborative effort between scholars in and outside China. It is indeed a welcome development."—James Watt
Winner of the 1997 Hawkins Award from the Arts Category given by the Professional/Scholarly Publishing Division of the Association of American Publishers
ISBN:
9780300094473
Publication Date:
August 11, 2002
Publishing Partner:
Published in association with Foreign Languages Press, Beijing
416 pages, 9 x 12
25 b/w + 300 color illus.