Long Day's Journey into Night
WARNING
You are viewing an older version of the Yalebooks website. Please visit out new website with more updated information and a better user experience: https://www.yalebooks.com
Eugene O´Neill; With a foreword by Harold Bloom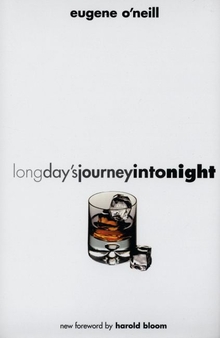 View Inside
Format:

Paper


Price:

$13.95
Also Available in:
Cloth
"The definitive edition" (Boston Globe) of Eugene O'Neill's Pulitzer Prize-winning masterpiece
 
Eugene O'Neill's autobiographical play Long Day's Journey into Night is regarded as his finest work. First published by Yale University Press in 1956, it won the Pulitzer Prize in 1957 and has since sold more than one million copies. This edition includes a foreword by Harold Bloom.
 
"By common consent, Long Day's Journey into Night isEugene O'Neill's masterpiece. . . . The helplessness of family love to sustain, let alone heal, the wounds of marriage, of parenthood, and of sonship, have never been so remorselessly and so pathetically portrayed, and with a force of gesture too painful ever to be forgotten by any of us."—Harold Bloom, from the foreword

"Only an artist of O'Neill's extraordinary skill and perception can draw the curtain on the secrets of his own family to make you peer into your own. Long Day's Journey into Night is the most remarkable achievement of one of the world's greatest dramatists."—Jose Quintero

"The play is an invaluable key to its author's creative evolution. It serves as the Rosetta Stone of O'Neill's life and art."—Barbara Gelb
Eugene O'Neill (1888-1953), the father of American drama, won the Pulitzer Prize for Drama four times and was awarded the Nobel Prize for Literature in 1936. Harold Bloom, Sterling Professor of Humanities at Yale University and Berg Professor of English at New York University, is the author of many books, including The Western Canon, The Anxiety of Influence and, most recently, How to Read and Why.

"Long Day's Journey Into Night has long since become a classic not only of the American stage, but of universal theater. And apart from its secure place in literature, the play is an invaluable key to its author's creative evolution. It serves as the Rosetta Stone of O'Neill's life and art."—Barbara Gelb
"Only an artist of O'Neill's extraordinary skill and perception can draw the curtain on the secrets of his own family to make you peer into your own. Long Day's Journey Into Night is the most remarkable achievement of one of the world's greatest dramatists."—Jose Quintero

"Drawing upon recent textual scholarship, the sixty-first printing of the Yale edition incorporates missing lines of dialogue accidentally dropped by O'Neill's wife Carlotta as she retyped."—American Literature
"The restoration of several previously missing lines of dialogue and stage direction likely make this the definitive edition of a 'play of old sorrow, written in tears and blood,' as O'Neill described it in dedicating it to his wife, Carlotta."—Boston Globe
"Attractive frontispiece. Recommended for all college and university libraries."—Choice

"No play Eugene O'Neill ever wrote speaks more eloquently to the reader. . . . Certainly no one, henceforth, will write of this other plays without remembering this, his most revealing of himself."—Lewis Gannett, New York Herald Tribune
"I think he wrote it as an act of forgiveness. Not as a pontifical forgiveness, mind you, not as absolution for the harm that had been done to him. That he was damaged by his family is only a fact now, a piece of truth to be but down out of respect of the whole truth; there is no residual rancor. He seems to be asking forgiveness for his own failure to know his father, mother, and brother well enough at a time when the need for understanding was like an upstairs cry in the night; and to be reassuring their ghosts, wherever they may be, that he knows everything awful that they have done, and loves them."—Walter F. Kerr, New York Herald Tribune
"Long Day's Journey is O'Neill's last, most realized play, a grand act of mercy upon his family and his own life."—Arthur Miller
"The helplessness of family love to sustain, let alone heal, the wounds of marriage, of parenthood, and of sonship, have never been so remorselessly and so pathetically portrayed, and with a force of gesture too painful ever to be forgotten by any of us."—Harold Bloom, from the Foreword
Winner of the 1957 New York Drama Critics Circle Award given by the New York Drama Critics' Circle
Winner of the 1957 Pulitzer Prize in Drama
ISBN:
9780300093056
Publication Date:
February 8, 2002
192 pages, 5 x 7 3/4