Artists on the Left
WARNING
You are viewing an older version of the Yalebooks website. Please visit out new website with more updated information and a better user experience: https://www.yalebooks.com
American Artists and the Communist Movement, 1926–1956
Andrew Hemingway

Read this book online via the A&AePortal, our art and architectural history eBook platform. To learn more about how to access this book, please contact us.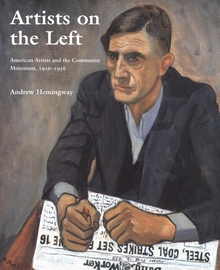 View Inside
Format:

Cloth


Price:

$90.00
Also Available in:
Art ePortal
Out of Print
This remarkable book is the first to examine in abundant detail the relation between visual artists and the American Communist movement during the twentieth century. Andrew Hemingway charts the rise and decline of the Communist Party's influence on art in the United States from the Party's dramatic rise in prestige during the Great Depression to its effective demise in the 1950s. Offering a full account of how left-wing artists responded to the Party's various policy shifts over these years, Hemingway shows that the Communist Party exerted a powerful force in American culture, even after the Nazi-Soviet Pact of 1939.

The author scrutinizes the works of an array of leftist artists, many of great interest but largely forgotten today. He demonstrates that American art produced within the Communist Party's orbit was far more diverse and had a much more complex relationship with modernism than has been previously understood. Refusing to march in lockstep to Party requirements, artists and critics in and around the Party accepted no single aesthetic line and engaged in heated debates. Hemingway offers radical new interpretations of some familiar works, reassesses the role of the John Reed Clubs and the work of artists in the federal art programs, and revises accepted thinking about art in the United States during the Cold War. In short, he offers a distinguished and original political history that recovers the rich artistic and intellectual legacy of the American left.

Andrew Hemingway is reader in history of art, University College London.

"This book stands as one of the most remarkable ever written on the American Left, Left-wing culture, and radicals' art in the U.S."—Paul Buhle, coauthor, Images of American Radicalism, and coeditor, Encyclopedia of the American Left



"Mr. Hemingway's book makes a tremendous contribution to the study of American communism. Especially impressive in the reach and detail of its scholarship, the book fills an obvious need. It also opens up a universe of opportunities for others to pursue, and will become the standard by which they are measured."—Albert Fried, author of Communism in America

"Hemingway writes with insight and brilliance. His keen analysis and meticulous archival research will inspire great interest from literary historians and cultural critics as well as art historians."—Patricia Hills, Boston University
"No better visual volume exists of the American art of social concern."—Kenneth Baker, San Francisco Chronicle

"An extensive investigation of the U.S. communist publications New Masses, Art Front, and The Daily Worker gives this collection of political art real context and bite, and provides an invaluable resource for students of the era's cultural criticism."—Publishers Weekly

"Artists on the Left provides a much-needed addition to the literature on one facet of modern American art. It is pleasure to encounter a book featuring so many unfamiliar artists and images. . . . As always with Yale University Press publications, the production quality is excellent."—John A. Walker, Art Book


"This book contributes greatly to an ongoing scholarly effort to complicate the notion of art as a weapon."—Robbie Lieberman, The Journal of American History


"An extraordinary volume . . . a lifetime effort. . . . An overview, with wonderful specifics and marvelous examples. . . . Hemingway writes brilliantly. . . . [A] marvelous work. Reader, dig in, and enjoy what your eyes tell you. There is more to learn than words can describe."—Paul Buhle, Science & Society

ISBN:
9780300092202
Publication Date:
October 11, 2002
368 pages, 9 1/2 x 11
150 b/w + 40 color illus.