London 1900
WARNING
You are viewing an older version of the Yalebooks website. Please visit out new website with more updated information and a better user experience: https://www.yalebooks.com
Jonathan Schneer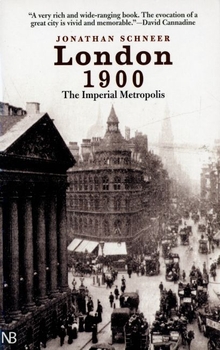 View Inside
Format:

Paper


Price:

$18.00
Also Available in:
Cloth
London in 1900 was the greatest city on earth—the capital of an empire on which the sun never set. This book is the first to examine this powerful and influential city at the turn of the century and to investigate its relationship with Britain's far-flung empire.

Jonathan Schneer focuses on the diverse, contentious, contradictory personalities of London and its inhabitants, showing the many ways that the empire impinged on them. He describes how a range of citizens—from architects to zoologists, from financiers to striking dockers—helped to define and shape the imperial metropolis. He also shows how the city was influenced by people other than native-born male Anglo-Saxons. Schneer traces the attempts of some of these overlooked peoples to delineate its boundaries: four extraordinary women—two political hostesses, a journalist, and an explorer-ethnologist—as well as anti-imperialist Irish, South Asians, West Indians, and Africans living in London at this time. In a concluding chapter, Schneer examines the general election of 1900 in London, in which the ruling Conservative government successfully defended its imperialist policies. The people of London, says Schneer, made their city and continually remade and reshaped it—as they continue to do today.
Jonathan Schneer is professor of history at the Georgia Institute of Technology.
"This is a remarkable and atmospheric book which captures London at its height as an imperial city—a striking snapshot of Londoners, men and women, who not only ruled or profited by empire, but whose activities and associations were also steadily undermining it from within its heart. As such it is a book about race as well as empire, and a book about London's future as well as the imperial London of 1900."—Ross McKibbin, St. John's College
"A thorough, impressive tour of imperial London a century ago and of the dissenting voices that finally helped the sun set on this bastion of Eurocentrism. History Professor Schneer lets readers view the grimy streets, polished offices, and dockside warehouses of old London, as well as the hearts and minds of its elitist, racist denizens. . . . [A] masterful work."—Kirkus Reviews (starred review)
"A very rich and wide-ranging book. The evocation of a great city is vivid and memorable."—David Cannadine
"The throb and hum of 1900 London reverberates in this superbly researched and richly detailed work of cultural history. . . . [Schneer] offers a lively portrait of a city that was not just the capital of a country but the capital of the world in a way that perhaps no other city has ever been."—Publishers Weekly
"[This] book, in many ways original, concentrates upon the imperial character of London in 1900. . . . [Schneer] has brought to light much fascinating new information."—John Grigg, Evening Standard
"In contrast to scholars who have concentrated on the economic and geopolitical roots of British expansion, Schneer is more interested in analyzing the impact of imperialism on daily life in London and the complex ways in which Londoners defined, reinterpreted, and turned the imperial experience to their own purposes. . . . Schneer's mining of a wide range of unpublished individual and institutional archival materials, as well as journals, newspapers, and published primary and secondary sources, has provided him with impressive evidence for the very readable portrait he paints of the last great imperial city at its zenith."—Choice
"[A] clear and well-written analysis of popular culture and party politics at the end of the Victorian era."—Virginia Quarterly Review
"This is a book of real scholarly merit. Elegantly and imaginatively written, it adds a new dimension to the history of the metropolis and to our understanding of the imperial idea at its zenith. It offers instruction and entertainment in equal measure."—Peter Cain, International History Review
"London in 1900 was the centre of the greatest empire in human history, a global dominion of 400m people. This work of magisterial scholarship is a portrait of the city at that empire's zenith and turning-point."—Janet Watts, Sunday Times
"This is a book thoroughly academically researched, but none the less fascinatingly readable. Schneer shows how London has had constantly to adapt to change. Never more so than now. At the beginning of the millennium—with the demise of the Empire and the reshaping of the Commonwealth—this is a book to help us get things into perspective."—Paul Hume, Methodist Recorder
"[A] lively new work. . . . Refreshing."—Bernard Porter, American Historical Review
"[An] entertaining and evocative work."—Susan D. Pennybacker, Social History
"A vivid account of London in 1900. . . . The book is a cleverly constructed, unconventional urban history. . . . A lively and readable book, which can engage the general reader while it recasts its subject for the specialist."—Lynn Hollen Lees, Journal of Interdisciplinary History
"Schneer has constructed a powerful picture of both British imperialism and the opposition to it—with all their nuances, complexities, and contradictions—in 1900, and so a persuasive, impressionistic portrait of London at the apogee of the imperial era."—George L. Bernstein, Journal of Modern History
"To the degree that one book can capture an urban process at a particular moment, hint at its rich and complex texture, and tease us into wanting to learn more about its subject or goals that are certainly worthwhile—Jonathan Schneer's London 1900 is a wonderfully successful portrait. I urge those interested in urban history and imperial history to read this book and discover how exciting it is when those fields collide."—Joseph McLaughlin, Journal of Colonialism and Colonial History
"[An] impressively researched study. . . . Schneer's study offers a vivid portrait of London in the 1890s as well as in 1900. The merit of his work is enhanced by a superb endnote apparatus, a comprehensive bibliography, excellent illustrations, and a fine index."—Victorian Studies
"My students were enthusiastic about London 1900 and were able to understand explicit and implicit arguments concerning imperial ideology, the labor movement, and public spaces. In particular, the book offers one of the best accounts of labor unrest at the turn of the century."—Deborah Valenze, Professor of History, Barnard College, Columbia University
"Lucidly written, London 1900 is a very useful text which highlights to students the intersection of different kinds of history within the study of Britain; the history of empire, of women, of race, of politics, and of labor."—Stephen Brooke, Associate Professor and Director, Graduate Program in History, York University, Toronto
ISBN:
9780300089035
Publication Date:
March 1, 2001
352 pages, 5 x 7 3/4