The Sculptural Imagination
Figurative, Modernist, Minimalist
Alex Potts

Read this book online via the A&AePortal, our art and architectural history eBook platform. To learn more about how to access this book, please contact us.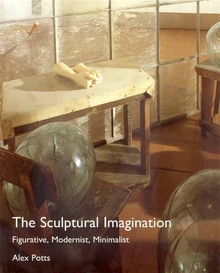 View Inside
Format:

Cloth


Price:

$75.00
Also Available in:
Art ePortal
Out of Print
In the modern period, sculpture has often been viewed as more limited, more literal, and also more primitive than the "leading" visual art: painting. But precisely because of its marginal status, Alex Potts points out in this stimulating and original book, sculpture has played a complex and intriguing role in modern ideas and fantasies surrounding visual art. Potts explores the special qualities of sculpture as a free-standing three-dimensional entity, and he considers the distinctive demands sculpture places on the viewer.

The book begins in the late eighteenth century, when a systematic formal distinction began to be made between painting and sculpture. Following changing attitudes toward sculpture through the nineteenth and twentieth centuries, Potts analyzes for the first time the radical transformation that has occurred not only in the nature of sculptural works but also in their display and reception. He focuses on a broad range of texts by major writers who have in some way been obsessed by sculpture and by such artist-theorists as Adolf Hildebrand and Donald Judd. The author also offers a detailed view of selected iconic works by key players in modern thinking about the sculptural. The impact of minimalism features prominently in this discussion, for it placed the phenomenology of viewing three-dimensional objects for the first time at the center of debate about modern visual art.


Alex Potts is professor and chair of history of art at the University of Reading, England. He is the author of Flesh and the Ideal: Winckelmann and the Origins of Art History, published by Yale University Press.


ISBN:
9780300088014
Publication Date:
January 11, 2001
432 pages, 7 1/2 x 10
115 b/w + 50 color illus.