Foundations of Natural Resources Policy and Management
WARNING
You are viewing an older version of the Yalebooks website. Please visit out new website with more updated information and a better user experience: https://www.yalebooks.com
Edited by Susan G. Clark, Andrew R. Willard, and Christina M. Cromley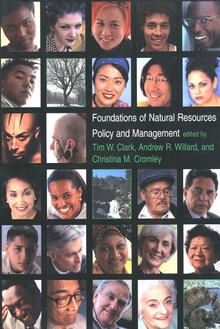 View Inside
Format:

Paper


Price:

$37.00
Also Available in:
Cloth
Natural resources issues are complex, often emotional, and almost always political. Efforts to improve natural resources management practices must take into account the scientific aspects of an issue plus these other dimensions. This book explains how to address and resolve the human issues underlying natural resources problems. It shows how the policy sciences—a systematic method for analyzing and proposing solutions—can be applied to any natural resources policy and management problem. The policy sciences approach proves flexible, widely applicable, and useful in developing realistic alternatives in diverse situations.

The book begins with a discussion of what natural resources are, how people make decisions about using them, and how the policy sciences can be used toward improving policy and management practices. Ten case studies inside and outside the United States follow. Policy science methods are applied to such problems as endangered species conservation, urban parks, the development of energy projects, the relations between national parks and people who live near them, ecotourism and biodiversity, and the relation between human rights and environmental conservation in refugee situations.

Susan G. Clark is professor (adjunct) at the Yale School of Forestry and Environmental Studies and a fellow of the Institution for Social and Policy Studies at Yale University. Andrew R. Willard is associate research scholar at Yale Law School and president of the board of directors of the Policy Sciences Center, Inc., New Haven, Connecticut. Christina M. Cromley is a doctoral candidate at Yale University and a research associate for the Northern Rockies Conservation Cooperative, Jackson, Wyoming.

"This book fills a great need to make the tools and methods of policy sciences available to those who deal with environmental problems."—Garry D. Brewer
"An all-inclusive policy science approach to natural resources decision making and management. The first two chapters, authored by Susan G. Clark and Andrew Willard, are brilliant thought out and constructed to introduce students and practitioners to the policy science approach. Quite useful to readers are the comprehensive charts describing the decision process used in managing natural resources. Following this introduction to policy sciences, they include in the work a series of case studies dealing with a diverse number of problems ranging from grizzly bear management in Wyoming in the control of ozone pollution in Baltimore, MD. It is clear that these case studies are used to illustrate how their model can be utilized. In the final chapter, the authors make it clear that their model can be used to solve problems other than those presented by environmental issues."—John Batt, College of Law, University of Kentucky, Lexington, KY 






"Foundations of Natural Resources Policy and Management is a marvelously accessible introduction to understanding and addressing conservation problems, using the powerful policy sciences framework applied to a series of compelling case studies. If you want to understand how to use a profound analytic and prescriptive framework to address conservation problems, this is the book--both in introducing the framework and in demonstrating its robustness across ten different domestic and international cases. Spanning grizzly bear survival in Wyoming to the rights of local people in Thailand to participate in designing conservation projects, this book is a remarkably coherent effort by a dozen different authors to refine and apply the framework. It succeeds admirably."—William Ascher, Professor of Government and Economics and Dean of the Faculty, Claremont-McKenna College, Claremont, California 


"This work is best suited as a textbook for college courses on federal and state policy and management of natural resources."—Paul H. Carlson, Journal of the West

"Provides [a] prototype for future policy sciences applications and much-needed practical guidance for natural resource conservation professionals. . . . An impressive prototype for educational programs in the policy sciences. . . . Clark, Willard, and Cromley have chosen their cases with care and with those choices provide both useful insights and important precedents for the study of natural resource issues. . . . [Positioned] to make a landmark contribution to promoting policy sciences theory and practice."—Richard L. Wallace, Policy Sciences
"To those teaching natural resource policy and to those students who wish to pursue advanced degrees in this area, the book is a good pedagogical tool. . . . [T]he book is a slam dunk for introducing the public policy of natural resources. It should be on the list of recommended works for anyone teaching a course in this arena."—Gary R. Evans, Science Books and Films

"Resource managers, politicians, conservation biologists, economists, plus instructors and students of resource management will all find this book very informative and useful."—Dan R. Kunkle, Wildlife Activist

ISBN:
9780300081442
Publication Date:
September 10, 2000
384 pages, 6 1/8 x 9 1/4
illus.