Marco Polo and the Discovery of the World
WARNING
You are viewing an older version of the Yalebooks website. Please visit out new website with more updated information and a better user experience: https://www.yalebooks.com
John Larner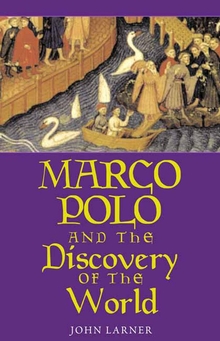 View Inside
Format:

Cloth


Price:

$61.00
Also Available in:
Paper
After many years in Asia, Marco Polo wrote one of the most influential books of the past millennium. No mere travel account, Polo's Book is a work that played a key role in the development of European overseas expansion. In this engaging and authoritative book, historian John Larner explores for the first time the full range of influence of Polo's Book on the history of geography and exploration. Larner assesses the findings of modern scholarship and offers an original account of Polo and his family, of how and why the Book came into being, and of its reception over the centuries.

Beginning with a discussion of the extent of European knowledge of Asia early in the thirteenth century, Larner considers what is known about Marco Polo's life and the composition of his text. He examines the Book's scope and sources (vindicating its author from recent claims that he never visited China), as well as the nature of Polo's cooperation with his co-author Rustichello da Pisa. He traces the manuscript forms and translations of Polo's Book in the Middle Ages, its influence on Western cartographers, its fortunes in the climate of fifteenth-century humanism, the possible extent of its encouragement to Columbus, and its later evolution into such new guises as the object of historical scholarship and exotic curiosity. Finally, Larner provides a fresh view of the enigmatic Polo, who, despite a deliberate cultivation of impersonality, continues today to engage the attention of readers.




John Larner is professor emeritus in history and professorial research fellow of Glasgow University.


A selection of Readers' Subscription

"A highly readable and well-researched historical inquiry."—Booklist
"Much is alien and strangely wondrous in the history of the book. So John Larner makes clear in his learned history of the book of travels that Marco Polo, a Venetian merchant who became a minor official of a Mongol khan, co-authored in a 13th century Genoese prison."—Tom Engelhardt, Los Angeles Times
"Larner focuses on the book that Marco Polo produced. . . . He makes his case by arguing that the type of occupation-specific education that Polo, a member of Venice's mercantile class, had received before his journey to China would not have enabled him to write a literate narrative. . . . Of interest to student and lay readers with an interest in history; for academic and larger public libraries."—Library Journal
"[An] erudite and highly personal book . . . Marco Polo and the Discovery of the World is an eloquent attempt to prove that Marco Polo's main importance was to the discipline. This focus leads Larner to much creative rethinking of things that have puzzled many readers."—Jonathan Spence, New York Times Book Review
"Larner shows us that the accounts of Polo's experiences opened up for his contemporaries a sensuous world that was wholly new to them. His book gave the West a body of geographical knowledge previously unmatched in scale. The information the book, at first ignored, but later embraced by cartographers, changed forever the European understanding of the world. In this engaging and authoritative study of Polo's great masterpiece, John Larner teases out a fresh sense of the enigmatic man himself."—Don DeNevi, Palo Alto Daily News
"It's fashionable to downplay the well-travelled 14th century merchant. But in Marco Polo and the Discovery of the World, John Larner puts him back on his pedestal as the first and most important inspiration for Europe's eventual conquest of the globe."—New Scientist
"Larner's book offers much meat for little money and is well produced, with exquisite reproductions of maps from Polo's era and other such illustrations."—Douglas Fetherling, Ottawa Citizen
"In Marco Polo and the Discovery of the World, John Larner aims to demonstrate the Venetian's contribution to the age of European discovery by comparing 'what was generally believed about the geography of the world' before Polo wrote his book with what it was afterward."—William McGurn, Wall Street Journal
"Polo's book succeeded in exciting his contemporaries about an unknown new world, bringing to life the countries surrounding the Indian Ocean which were the source of the spices, silks and perfumes they enjoyed. This provides a fine in-depth survey of the importance of his title."—Bookwatch
"Larner has written an erudite, comprehensive, and very readable study of enigmatic Venetian Marco Polo, his book, and the book's impact on European culture. . . . Highly recommended for all medieval and world history collections."—Choice
"[An] elegant and reasoned book."—Donald Richie, Japan Times
"Larner's handsome and beautifully illustrated Marco Polo and the Discovery of the World does justice to the book that inspired it. Through his thorough research and skillful prose, Larner has placed Marco Polo and Polo's book in their proper complex contexts, and his commentary rest on a series of reasonable and convincing interpretations."—William D. Phillips, Jr., Terrae Incognitae
"Larner's excellent new book is not another review of Marco Polo's travels but a discussion of the book itself: its significance and its influence on subsequent geographical thinking. . . . Handsomely produced and accompanied by a small selection of excellently reproduced illustrations and maps."—Evelyn Edson, Imago Mundi: The International Journal for the History of Cartography
"Larner gives refreshing treatment to Marco Polo's book, making Marco Polo and the Discovery of the World attractive not only to historians of geography but undoubtedly also to maritime historians."—International Journal of Maritime History
"[An] engaging, informative, and handsomely illustrated introduction to Marco Polo's world and his book."—Daniel Bornstein, The Historian
"A thorough but accessible guide to Marco Polo's Book and the changing European contexts in which it was received. . . . Polo specialists will no doubt find much grist here, as will teachers of world history."—James A. Millward, American Historical Review

"This personal, evenhanded, and persuasive account of Polo's Book will appeal to academics and to a much wider readership among those interested in developing a broad understanding of the work and its place in the history of European contact with the Eastern world."—Scott Lightsey, Speculum
Selected as an Outstanding Academic Title for 2000 by Choice Magazine
ISBN:
9780300079715
Publication Date:
September 10, 1999
264 pages, 5 x 7.75
5 b/w + 9 color illus.