The Trials of Oscar Wilde
WARNING
You are viewing an older version of the Yalebooks website. Please visit out new website with more updated information and a better user experience: https://www.yalebooks.com
Deviance, Morality, and Late-Victorian Society
Michael S. Foldy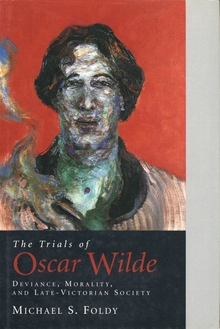 View Inside
Format:

Cloth


Price:

$56.00
Following Oscar Wilde's 1895 trials for committing "acts of gross indecency with men," he lost his freedom, his family, his reputation, his will to create, and even his will to live. This book sets out to examine what it was about late-Victorian society that allowed this to happen, indeed needed it to happen, and what the trials tell us about the taste and morals of late-Victorian England.
Michael S. Foldy argues that the prosecution of Wilde was directly linked to many larger social, cultural, and political issues that transcended the legal and moral concerns about his homosexuality. Analyzing the trial testimony and the coverage in the press, Foldy considers the various images and metaphors used to describe the threat that Wilde posed to English society, and he investigates the social and cultural contexts that dictated how those images were perceived.
Foldy shows how the public construction of Wilde's identity as "deviant" was both informed and limited by existing heterosexist structures of repression and mechanisms of restraint and by the emergence of a new variant of homophobia. He suggests that Lord Rosebery, the prime minister of the time, may himself have been a homosexual, and that the successful prosecution of Wilde was necessary to prevent a larger and infinitely more damaging revelation. Ultimately, Foldy locates the meaning of the trials within the rhetorical context of the contemporary public debate over the "health" of England—a debate whose terms had been defined largely by moral conservatives—and demonstrates that in a nation that had many reasons to be concerned about its future, Wilde was perceived to represent a constellation of potent threats to the health of British society.
Michael S. Foldy earned a Ph.D. in history at the University of Southern California.

"Foldy advances a theory: Wilde, who was imprisoned for 'indecent acts' with men, served as whipping-boy for larger societal anxieties over 'moral health'—and as scapegoat for the crimes of Lord Rosebery, homosexual Prime Minister. While several books already posit Wilde's trial as a social mirror, Foldy manages to unearth yet more interesting aspects of the case, and the Roseberry angle is intriguing. . . . [An] informed, energetic analysis."—Shelley Salamensky, Boston Review
"Wilde's character sparkles as richly in his court testimony as it does in his comedies."—National Law Journal
"Foldy classifies this scholarly work as 'micro-history,' a work that examines the complexities of a small historical event to illuminate the larger social and cultural processes that envelop it. . . . The three trials are clearly and closely described. . . . This narrative alone is fascinating. But Foldy also tells the equally fascinating story of the society that convicted Wilde and reveled in his fall."—Boston Globe
"Foldy manages to unearth interesting aspects of the case, and the Rosebery angle is intriguing. Wilde fans would do well to skip the play and check out the trial transcripts and Foldy's analysis instead."—Shelly Salamensky, Boston Review
"This book reveals far more than most exactly why Wilde was such a threat to the Victorian order—and why he is such a hero today."—Jonathan Fryer, Gay Times
"Foldy . . . tells the . . . fascinating story of the society that convicted Wilde and reveled in his fall. Foldy persuasively describes how Wilde represented more than just deviant sexuality, how he came to be associated with a whole constellation of threats to society."—Barbara Fisher, Boston Globe
"In the Trials of Oscar Wilde: Deviance, Morality, and Late Victorian Society, historian Michael S. Foldy advances a theory: Wilde, who was imprisoned for 'indecent acts' with men, served as whipping-boy for larger societal anxieties over 'moral health'—and as scapegoat for the crimes of Lord Roseberry, homosexual Prime Minister. While several books already posit Wilde's trial as a social mirror, Foldy manages to unearth yet more interesting aspects of the case, and the Roseberry angle is intriguing. . . informed, energetic analysis."—Shelley Salamensky, Boston Review
"Wilde's character sparkles as richly in his court testimony as it does in his comedies."—National Law Journal
"Foldy's book is a valuable resource for historians of the Wilde era."—Frank Moliterno, Albion
"The story Foldy tells of the public reaction to Wilde's trials (and Wilde's own response) helps late-twentieth-century scholars explore legal rules regulating consensual sexual conduct, as well as the related social question of the nature of sexual identity. As such, The Trials of Oscar Wilde offers a unique and powerful analysis of the legal and social elements of an extraordinary historical event."—Martha M. Ertman, Law and Social Inquiry
"In its careful analysis, narrative sweep, and detailed presentation of evidence, the book is a success and a welcome addition to Wilde scholarship."—Melissa Knox, Journal of the History of Sexuality

ISBN:
9780300071122
Publication Date:
October 20, 1997
224 pages, 6 1/8 x 9 1/4