Playing to the Camera
WARNING
You are viewing an older version of the Yalebooks website. Please visit out new website with more updated information and a better user experience: https://www.yalebooks.com
Film Actors Discuss Their Craft
Edited by Bert Cardullo, Harry Geduld, Ronald Gottesman, and Leigh Woods; Foreword by Stanley Kauffmann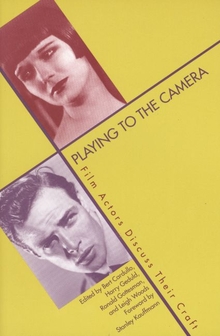 View Inside
Format:

Paper


Price:

$37.00
Also Available in:
Cloth
Over the last century, film actors from Charlie Chaplin and Lillian Gish to Meryl Streep and Jeff Daniels have spoken about the art and technique of playing to the camera. This fascinating anthology of their "insiders" observations will delight film lovers and aspiring film actors everywhere.

The book has been edited by four leading film and theater historians, who have brought together selections from periodicals and books (some no longer in print), had some statements or conversations translated into English for the first time, and conducted new interviews with working actors. The book is divided into four parts—"The Silent Performance," "Finding a Voice," "European Acting," and "Hollywood Acting"—each of which is introduced by a brief commentary. This chronological and topical structure allows one actor to talk or argue with another as they offer astute—and often contradictory—opinions on a broad range of theoretical concerns. Among the issues they discuss are stage versus screen performance, the spiritual, emotional, and psychological underpinnings of the actor's art, and the performer's response to technical demands and other exigencies of filmmaking. The book, which also includes an insightful general introduction, film biographies of the actor-authors, and aptly chosen movie stills, is an essential resource—one that gives us, says Stanley Kauffmann, "the mapping of a new territory in art."
Bert Cardullo is associate professor of theater and drama at the University of Michigan. Harry Geduld is professor of comparative literature at Indiana University. Ronald Gottesman is professor of English at the University of Southern California. Leigh Woods is professor of theater and drama at the University of Michigan.


A selection of Movie and Entertainment Book Club

"These forty-two essays and interviews with movie stars past and present provide a refreshing perspective on film acting as an evolving art form. The result is a rare thing indeed—unshowy insights into the artistic side of showbiz." —Megan Harlan, Entertainment Weekly




"As a book of film history, it has the potential to be a classic…A good number of the interviews and essays are outstanding, and, to my knowledge, for each actor the editors chose the best available piece, even if it was obscure and long out of print. Some of the most engaging parts of the book are those in which the actors tell stories about the films they've made…The book is full of telling comments…The interviews and autobiographical documents have personality and style." —Yuval Taylor, Boston Book Review


"This book is a prize for all who care about film. Open it anywhere and it gleams with insight, experience, professional knowledge."—Stanley Kauffmann, from the Foreword


"The most underapreciated element of film as an art form. . . may well be acting; this collection. . . attempts to redress that imbalance by drawing on the words of those who practice the craft."—Kirkus Reviews


"Includes many of cinema's greats: Charles Chaplin, Lillian Gish, Bette Davis, Marcello Mastroianni, Jack Nicholson, and others, all expounding on what they did best"—Washington Post Book World


"[This book] may be the definitive collection of primary sources on film acting by the world's most famous film actors, from the dawn of cinema to the present day. The numerous excerpts from memoirs and magazine interviews are both an excellent historical record of the film industry in the U.S. and overseas and a study of actors' theories about performing before the camera. The accounts are fascinating."—Ted Leventhal, Booklist

"[An] important collection."—Choice


"[A] rich anthology."—Sean French, Independent


"It is an enjoyable and interesting look at the world of actors in film."—Cinema Theatre Association


"This treasury of professional knowledge, which Stanley Dauffmann says maps 'a new territory in art,' can be read straight through as a long seminar on film acting, or be dipped into as a bedside anthology. Either way it will prove stimulating and entertaining."—Day By Day


"If you care about film and the players this book is a gem. . . . A wonderfully readable look at the people whose films have influenced our times, and our lives."—Ohioana Quarterly



"Playing to the Camera . . . offers an engaging personal history of the development of film acting, as an art and as a lucrative profession, through the words of actors themselves."—Maria Wyke, Times Literary Supplement

"This irresistible anthology . . . provides . . . actors arguing shop across different times and cultures. Yet the book is most endearing for [its] amazing curios."—Sight and Sound
"If . . . you'd like to learn how certain actors have approached their jobs, you've come to the right place."—Andrea Higbie, New York Times Book Review

ISBN:
9780300070514
Publication Date:
November 10, 1999
384 pages, 6 1/8 x 9 1/4
72 b/w illus.