Bayreuth
WARNING
You are viewing an older version of the Yalebooks website. Please visit out new website with more updated information and a better user experience: https://www.yalebooks.com
A History of the Wagner Festival
Frederic Spotts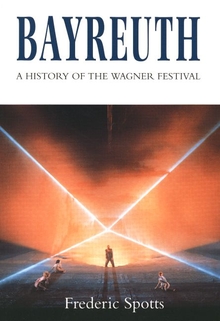 View Inside
Format:

Paper


Price:

$34.00
Also Available in:
Cloth
Germany's cultural glory and for a time Germany's political shame: the operatic festival established by Richard Wagner in 1876 is one of the most intriguing phenomena in modern European intellectual history. The oldest and best known of all musical festivals, Bayreuth soon after Wagner's death in 1883 became the center of a reactionary and nationalistic ideological cult. This book is the first to provide a frank and fully rounded account of the institution and the way it operates.

The focus of the study is a critical analysis of the performances and productions, brought alive with photographs and sketches of stage settings, conductors, singers, and costumes from 1876 to 1990. Around this artistic history is woven the remarkable story of why, against tremendous odds, Wagner built his famous Festspielhaus and established his controversial festival and of how his descendants have managed to keep it alive. At the same time, the book traces the institution's association with nationalism and racism, its eventual debasement into "Hitler's court theatre," and its postwar liberation from its chauvinist, anti-Semitic past.

With its own form of Wagnerian Gesamtkunstwerk—linking art, the personalities of the Wagner family, and German ideological development—this provocative study will be compelling reading not only for Wagner enthusiasts but also for anyone interested in European intellectual history since 1876.
Frederic Spotts is an associate of the Center for European Studies at Harvard University. Formerly a member of the American Foreign Service, he has written books on German and Italian politics and edited the Letters of Leonard Woolf. He has attended the festival since 1955.
"A knowing, engrossing . . . overview of the shrine that Wagner established to himself. . . . Spotts's research into the Nazification of the Festival . . . makes this a seminal study for a new generation."—Publishers Weekly
"This is that rare, almost impossible thing, a book about Wagner and his legacy that manages to maintain balance throughout, while suppressing nothing that is relevant to its theme. Frederic Spotts has mastered a vast body of historical data . . . and presented it in smooth, occasionally witty prose. . . . He leaves one feeling ready to begin reading the book again, even if one has no fervent interest in Wagner, since so much here is exemplary in one sense or another."—Michael Tanner, New York Times Book Review
"[Spotts] proffers telling insights on the festival's impact on Germany and makes a convincing case for the operas' influence upon Hitler's rise to power. . . . A provocative and accomplished study."—Booklist
"Spotts' great strength is the balance he maintains in his well-organized narrative. Music history, cultural comment and such issues as the family's embrace of Nazism are all deftly combined."—Martha Duffy, Time
"A readable, authoritative account of the Wagner festival that is compelling and chilling, sketching the cult's evolution and surveying its achievements. . . . Mr. Spotts's history is, at least in English, a pioneering one."—Edward Rothstein, New York Times
"Scholarly yet lively. . . . [Spotts] tells a riveting story."—John Richardson, New Yorker
"[Bayreuth] is not just a spiritual and political history of the Festival but a sustained attempt to explain the place, uniquely emblematic, that it holds, and ha always held, in German cultural life."—Richard Law, Opera
"You don't have to be a Wagner expert or even a Wagner fan to enjoy this book. . . . By the last page, this die-hard Verdi-lover was ready to call the travel agent and book the tickets."—Stephanie Martin, Wilson Library Bulletin
"Spotts has produced not only an exemplary history of the festival, but also an indispensable book about Wagner and his legacy. . . . Spotts's mastery of this fascinating material is complete and his writing is an unalloyed pleasure. Highly recommended."—Choice
"Whether one thinks of Wagner as the supreme artist or a carrier of diseased social theory, the tale of the festival he founded to promote and preserve his works is both enthralling and instructive."—Donal Henahan, The Jerusalem Post
"A beautifully written, and, where appropriate, amusing study, fair in its judgment, but sparing no blushes so far as the direr members of the Wagner tribe and there hangers-on are concerned."—David Mellor, The Daily Telegraph
"Spotts has done the job magnificently."—Barry Millington, BBC Music
"Scholarly, readable and thorough."—Tom Sutcliffe, The Guardian
"The best and certainly most lucid history of its subject I've read."—Michael White, The Independent on Sunday
"A result of this fascinating, admiring study is that we discover yet again how prismatic is Wagner's art. We consider the facets that we cast light upon, choosing to see what we want to see, missing or ignoring much more."—Fred Plotkin, Opera News
"[A] splendidly illuminating history."—Wall Street Journal
"Bayreuth is a wide-ranging and engagingly written synthesis. In the challenging task of bringing discursive life to an audio-visual experience Spotts shows a deft hand. . . . A very handsome and accessible introduction to the Bayreuth phenomenon."—Thomas J. Saunders, Canadian Journal of History
"Frederic Spotts is not a musicologist by training, but his book—which will certainly become the standard study in English—successfully addresses the music historian, the historian of theater institutions, the cultural historian, and the informed Wagnerite. . . . The book is of enormous value, and, thanks to Spotts's vivid prose, a pleasure to read."—Glenn Stanley, Opera Quarterly

"Particularly impressive is Spotts's reading of newspaper articles about Wagner, for it is via the wider press that meanings about music were planted in the modern public mind."—David B. Dennis, German Studies Review

"A smart, splendid account of the world's most famous . . . serious music festival. . . . An important, elegantly written, deeply engrossing cultural history of this unique cultural institution."—Kirkus Reviews
Winner of the Royal Philharmonic Society award for the best music book of 1994
ISBN:
9780300066654
Publication Date:
April 24, 1996
344 pages, 6 1/8 x 9 1/2
108 b/w illus.