The Texture of Memory
WARNING
You are viewing an older version of the Yalebooks website. Please visit out new website with more updated information and a better user experience: https://www.yalebooks.com
Holocaust Memorials and Meaning
James E. Young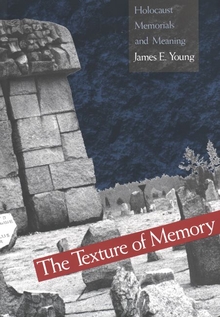 View Inside
Format:

Paper


Price:

$45.00
Also Available in:
Cloth
In Dachau, Auschwitz, Yad Vashem, and thousands of other locations throughout the world, memorials to the Holocaust are erected to commemorate its victims and its significance. This fascinating work by James E. Young examines Holocaust monuments and museums in Europe, Israel, and America, exploring how every nation remembers the Holocaust according to its own traditions, ideals, and experiences, and how these memorials reflect their place in contemporary aesthetic and architectural discourse. The result is a groundbreaking study of Holocaust memory, public art, and their fusion in contemporary life.

Among the issues Young discusses are: how memorials suppress as much as they commemorate; how museums tell as much about their makers as about events; the differences between memorials conceived by victims and by victimizers; and the political uses and abuses of officially cast memory. Young describes, for example, Germany's "counter monuments," one of which was designed to disappear over time, and the Polish memorials that commemorate the whole of Polish destruction through the figure of its murdered Jewish part. He compares European museums and monuments that focus primarily on the internment and killing process with Israeli memorials that include portrayals of Jewish life before and after the destruction. In his concluding chapters, he finds that American Holocaust memorials are guided no less by distinctly American ideals, such as liberty and pluralism.

Interweaving graceful prose and arresting photographs, the book is eloquent testimony to the way varied cultures and nations commemorate an era that breeds guilt, shame, pain, and amnesia, but rarely pride. By reinvigorating these memorials with the stories of their origins, Young highlights the ever-changing life of memory over its seemingly frozen face in the landscape.

James E. Young is associate professor of English and Judaic studies at the University of Massachusetts, Amherst.

"This is a distinguished and original book, interesting for students of art and architecture, those concerned with the trauma and psychology of memory and with how history is commemorated, and those wishing to encounter the Holocaust experience from an original direction."—Lawrence L. Langer, author of Holocaust Testimonies: The Ruins of Memory
"A powerful and moving examination of the complex nature of Holocaust memorials and of their difficult mandate: to convey meaning in a world subject to constant change. . . . [The Texture of memory] is both revolutionary and classic."—Esther da Costa Meyer, Yale University

 "I cannot begin to suggest the breadth and scope of this book. I don't know when I have read a more beautifully written book and one that made me think so intensely about a particular subject. It should be required reading, not only for those interested in the Holocaust and its interpretations in art, but also as a treatise on the ways in which societies remember and transfer memories of terrible events."—Susan Schwalb, Women Artists News Book Reviews
"Anyone concerned with memory, not as an abstract possibility but as a problem defined by and defining modernity,, cannot but be indebted to James Young's important studies."—Andrew Benjamin, Annals of the Architectural Association School of Architecture
"James Young has produced a well-written and meticulously edited book that is one of the most original and powerful to emerge to date. . . . Anyone interested in Holocaust studies or in the murky linkage between the present and the past that we call 'memory' will find this book indispensable. Perhaps more important for academics of all stripes, The Texture of Memory provides a model of brilliantly conceived and well rendered interdisciplinary scholarship. It will prove useful as a text for graduate and upper-level undergraduate courses. . . . This book convinces through the force of its elegance as well as its argument and evidence, taking the reader on a journey that both fascinates and informs."—Michael R. Hayse, German Studies Reveiw
"This sensitive and subtly-argued book poses many questions."—Pauline Paucker, Journal of Holocaust Education
"This is a sensitive and intellectually compelling book. James Young's comparative approach to the study of Holocaust memorials is groundbreaking and opens the way to much further research on the various national approaches to the commemoration of this catastrophe."—Saul Friedlander
"Moving . . . original, and timely. . . . Young systematically examines memorials built where the Final Solution was planned (Germany), where it was mainly carried out (Poland), and where the bulk of its survivors fled (Israel and the United States)."—Mark Lilla, New York Times Book Review
"The Texture of Memory is a major contribution to our understanding of the Holocaust. . . . It makes clear that much of who we are is shaped not only by what we remember but also by how we remember."—Mark Pollock, Chicago Tribune
"An interesting survey of holocaust memorials."—Leon Wieseltier, New Republic
"A remarkable story. . . . [Young] brings to his discussion of these monuments great sophistication in current understanding of art, of symbols, of significations. Every reader will come away from The Texture of Memory enriched."—Nathan Glazer, New Leader
"The Texture of Memory should be read by all who put stock in [Holocaust memorials] as an enduring way to preserve and understanding of the past. . . . Young has succeeded in helping to refocus our view and make the stone markers of the ineffable speak to us anew."—Michael Z. Wise, Forward
"James E. Young's fascinating new book on Holocaust memorials won't make you cry. It will make you think. . . . The Texture of Memory can be read . . . as photo essay, as guidebook, as art history, as sociology, as study of memory. . . . Provocative."—Nancy Pick, Hampshire Gazette
"Young's excellent and important book testifies eloquently to the inadequacy of a notion of 'memory' as the neutral recollection of experiences past."—Joanne Jacobson, Nation
"An invaluable contribution."—Ian Buruma, Times Literary Supplement
"Young's prose is clear, expressive, and dispassionate. The book is abundantly illustrated, well documented, and offers a broad Holocaust bibliography."—Choice
"Young's beautifully written book is a multilayered analysis of the Holocaust memorials in Germany, Austria, Poland, Israel, and the United States. . . . [The book] sheds light on numerous aspects of the particular role they play, shaping memory in our modern and Jewish consciousness, and on the nature of memory itself. . . A deeply felt and personal account that seeks to revivify the monuments, by recovering the appreciation that went into making them in the first place, and sustaining their relevance by understanding their evolving meaning in new contexts."—Mark W. Kiel, Congress Monthly
"Young's provocative analyses of existing memorials are clearly a must read for all future monument makers."—Michele C. Cone, Art Journal
"[A] magisterial record of a journey to Holocaust memorials all over Europe and America."—Elliot Neaman, Response: A Contemporary Jewish Review
"A significant contribution to our understanding of the Holocaust and of the relationship of public art to public memory. It pairs an ambitious theoretical agenda with extensive analysis of concrete particulars in a blending of theory and criticism which benefits both. Its engaging style and clear vocabulary, along with its extensive illustrations, make it a valuable text for those teaching relevant courses, as well as a model for writers who wish their criticism to be both rigorous and accessible to wider audiences. Perhaps most important is the book's success in establishing that much of who we are is shaped, not only by what we remember, but also how we remember."—Mark A. Pollock, Quarterly Journal of Speech
"In his extensive, beautifully-written and well-illustrated study of monuments and memorials dedicated to the resistance and mass murder of Jews during World War II, James E. Young offers us a unique presentation of this highly emotional subject. . . . Young ponders deeply the significance: historical, national, religious or artistic of each memorial tablet, museum or monument in Europe, America, and Israel."—Alexander Zvielli, Jerusalem Post
"The moment this book appeared it became a classic and a definitive text within a field of contemporary history which this book itself has helped to create."—European Judaism
"An unusual, powerful, and suggestive work. . . . The book manages to give the eternal dimension to the horizontal passage of history. . . . it stimulates the reader towards an awareness that the building of these memorials involves forces that go beyond time and ideas themselves."—Daniel Libeskind, Building Design
"A masterpiece."—Julia Neuberger, Times Educational Supplement

"No one . . . has yet subjected the whole question of Holocaust memorialization to such cogent, wide-ranging and thought-provoking analysis."—Monica Bohm-Duchen, Jewish Quarterly

"In his extensive, beautifully-written and well-illustrated study of monuments and memorials dedicated to the resistance and mass murder of Jews during World War II, James E. Young offers us a unique presentation of this highly emotional subject."—Alexander Zvielli, Jerusalem Post Magazine

"James Young's new book is a magisterial description and critique of Holocaust monuments. No one knows more about them or has traveled more widely to produce this comparative study. He not only considers how we commemorate so immense a catastrophe but also carefully examines the ideology of monuments, how they express place and time of origin."—Geoffrey Hartman, Yale University
Winner of a 1994 National Jewish Book Award given by the Jewish Book Council
ISBN:
9780300059915
Publication Date:
January 25, 1994
415 pages, 7 x 10
121 b/w illus.