Children with a Star
WARNING
You are viewing an older version of the Yalebooks website. Please visit out new website with more updated information and a better user experience: https://www.yalebooks.com
Jewish Youth in Nazi Europe
Debórah Dwork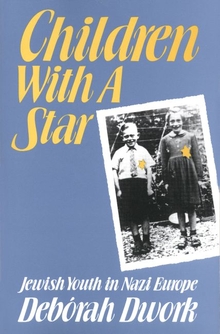 View Inside
Format:

Paper


Price:

$37.00
Also Available in:
Cloth
"The little children had little parents in the [twins'] block [in Auschwitz]. For example, I was a little mama for twins, two girls named Evichka and Hanka…My sister was the mother for Hanka and I was the mother for Evichka…Evichka told me that she got a mother and a father, but that they had gone away on transport. The twins were four years old. I said to her, 'I will be your mother.' She said, 'But you are only sixteen years old; it doesn't matter?' I said, 'No, it doesn't matter because it is more important that we are together and that we are not alone. You have a mother and I have a daughter.'" —Magda Magda Somogyi
Many books have been written about the experiences of Jews in Nazi Europe. None, however, has focused on the persecution of the most vulnerable members of the Jewish community—its children. This powerful and moving book by Deborah Dwork relates the history of these children for the first time.
The book is based on hundreds of oral histories conducted with survivors who were children in the Holocaust, in Europe and North America, an extraordinary range of primary documentation uncovered by the author (including diaries, letters, photographs and family albums), and archival records. Drawing on these sources, Dwork reveals the feelings, daily activities, and perceptions of Jewish children who lived and died in the shadow of the Holocaust. She reconstructs and analyzes the many different experiences the children faced. In the early years of Nazi domination they lived at home, increasingly opposed by rising anti-Semitism. Later some went into hiding while others attempted to live openly on gentile papers. As time passed, increasing numbers were forced into transit camps, ghettos, and death and slave labor camps. Although nearly ninety percent of the Jewish children in Nazi Europe were murdered, we learn in this history not of their deaths but of the circumstances of their lives.
Children with a Star is a major new contribution to the history of Europe during the Nazi era. It explains from a different perspective how European society functioned during the wary years, how the German noose tightened, and how the Jewish victims and their gentile neighbors responded. It expands the definition of resistance by examining the history of the people—primarily women—who helped Jewish children during the war. By focusing on children, it strips away rationalizations that the victims of Nazism somehow "allowed or "deserved" their punishment. And by examining the experience of children and thereby laying bare how society functions at its most fundamental level, it not only provides a unique understanding of the Holocaust but a new theoretical approach to the study of history.
Debórah Dwork is an associate professor in the Child Study Center, Yale University, and a research associate in the Program in Judaic Studies.


"The first book ever written on the fate and the psychological perceptions of Jewish children during the Nazi era. This is a well-conceived, brilliantly written, original work that will be of great interest both to the layman and to professional historians."—Friedrich Katz, University of Chicago
"Well written, richly documented, and thoroughly researched, Dwork's account of Jewish youth under Nazi rule is an important contribution to the study of the Holocaust. The voices from Children with a Star speak to us with terrifying clarity."—Lucjan Dobroszycki
"It is a compelling and well-researched account that rescues an important part of this story from oblivion."—Deborah E. Lipstadt, American Historical Review
"Haunting. . . . Deeply moving. Exhaustively researched, the book is based in great part on amazingly detailed interviews with many survivors on both sides of the Atlantic."—Micheline Ratzersdorfer, AMIT Woman
"Drawing on personal interviews with survivors, diaries, and letters, Dwork has assembled a poignant, often horrifying social history of Jewish children's lives in Nazi Europe. . . . Virtually every page contains something that touches the heart."—Booklist
"We are provided with a unique insight into the minds of Hitler's most helpless victims, as they recall their suffering half a century on."—Sharman Kadish, British Journal of Holocaust Education
"Dwork has written a scholarly, eloquent and immensely powerful look at the fate of an entire generation of Jewish children during the Second World War. . . . Children With a Star is scrupulous in its research, and demonstrates that viewing the Holocaust through the eyes of children is to see it in all its madness and injustice."—Lucy Lethbridge, Catholic Herald
"[A] most striking new approach. . . . For her scrupulously scholarly, yet eloquent and moving book, Dwork used the techniques of oral history to learn from those forced to wear the Star of David on their clothes as children."—Henry Kisor, Chicago Sun-Times
"This sophisticated and sensitive study makes effective use of oral history. . . . The illustrations are simply heartbreaking and they greatly complement the text. . . . Strongly recommended for college, university, and public libraries."—Choice
"A marvelous book about a subject that has not been given the serious attention it deserves."—Dimensions
"A stunning book"—Tibbi Duboys, History of Education Quarterly
"This powerful book tells the story of the children who lived and died in the Holocaust through the use of oral history, archival records, and an extraordinary range of letters, diaries, and family albums."—Jack Fischel, Indiana Jewish Post And Opinion
"Dwork has illumined an aspect of the Holocaust universe almost totally overlooked in the classic studies of the Nazi machinery of destruction. She brings both critical analysis and deep empathy to her account of the efforts of victims to adapt and survive, and the efforts of 'bystanders' to help, shield, and save these victims despite the enormous risks."—Marc E. Saperstein, Journal of Interdisciplinary History
"[A] thorough and well-documented account. . . . Solidly researched and sensitively arranged—a useful addition to the Holocaust canon, and a frightening record of innocence betrayed."—Kirkus Reviews
"Deborah Dwork's meticulously detailed history and analysis of the life of Jewish children in Nazi-occupied Europe . . . [is] likely to reorient Holocaust studies. . . . Thoroughly researched and detailed, . . . [it] provides a challenging history of the persecution of the Jewish communities' most vulnerable members."—Robert Wiseman, Le'ela

"Dwork succeeds in illuminating a previously unexplored chapter of social history. Relying heavily on quotations from diaries, letters, and interviews, garnered through extensive research, Dwork describes daily living as seen through the eyes of children. . . . Only ten percent of Jewish children survived the Nazi onslaught. Dwork's powerful book gives new meaning to this numbing statistic."—Library Journal
"Though its subject is grim and its tragic outcome all too familiar, the book is fresh and compelling—both psychologically and historically."—Sara Brzowsky, Lilith
"An excellent, well-researched book about how the war years affected children and childlife in all its guises and locales. . . . The book is fresh and compelling—both psychologically and historically."—Sara Brzowsky, Lilith
"An impressive assortment of direct quotes. . . . A convincing historical narrative. . . . Dwork pays fulsome tribute to the organisations which helped keep [the children] in hiding."—Frances Welch, Literary Review
"To view the Holocaust through the eyes of children is to see it for all its madness and injustice. It is impossible to read this book without raging again at the facts we already know. . . . She has contributed a child's history of the Holocaust that can be read by students, psychologists, historians in years to come. The excellent quality of the research and the clarity of the writing make this an effective book, adding a point of view that is essential for us as we continue to witness the past to wrestle with the facts."—Anne Roiphe, Los Angeles Times
"[A] powerful and moving book. . . . By examining the experience of children and, thereby, laying bare how society functions at its most fundamental level, the author provides not only a unique understanding of the Holocaust but a new theoretical approach to the study of history."—Menorah Review

"[A] powerful new work . . . gripping, compelling, and, above all, necessary. A study of the experience of children during the Holocaust, Children With a Star insists on its own significance, as the author, a social historian, tells the moving tale of the most helpless victims of the Nazis."—David M. Loeb, New Haven Register
"Debórah Dwork possesses the art of inducing [these survivors] to speak, just as she possesses the art of listening."—Elie Wiesel, Newsday
"Focusing on the children of the Holocaust and their harrowing experiences under the Nazis, this poignant work uses the oral histories of those children who survived and provides a new perspective describing their psychological perceptions while hiding in ghettos and in the camps. Professor Dwork tells a gripping tale of children and horror; her solidly researched book strips away any rationalizations that the victims of Nazism somehow 'allowed' or 'deserved' their punishment."—Psychoanalytic Books: A Quarterly Journal of Reviews
"A poignant and gripping story by an author who writes with a heart. . . . She documents her narrative by weaving personal recollections of survivors and entries from their diaries. Readers will be transfixed by the children's daily lives—the ordinariness as well as the atrocities. A new dimension in books about the Holocaust."—Mary Quinn, School Library Journal
"[An] important book."—Alexander Zvielli, The Jerusalem Post
"A brave, determined and detailed study of the plight of innocents in viciously ideological times — and astonishingly, the first about the children."—The Observer
"A book which must be read."—Peter Ackroyd, The Times
"It has to be read: to put the book to one side is to consign [the children's] stories of torment to silence and darkness once again, for they were already the forgotten children of Europe."—Peter Ackroyd, The Times Saturday Review
"[Dwork] has achieved what she set out to do with intelligence, compassion and, it must be said, bravery."—Reva Klein, Times Educational Supplement
"This book makes an important contribution to the history of the Holocaust and, sadly, to the history of childhood."—David Cesarani, Times Higher Education Supplement
"This book pries open doors which, for decades, have been bolted. [Dwork] has achieved what she set out to do with intelligence, compassion, and, it must be said, bravery."—Reva Klein, Times Higher Education Supplement
"This is the story of how hope was extinguished, step by step. . . . Dwork . . . has collected the personal testimonies of . . . hundreds of . . . survivors. More important,, she has integrated them into a thorough and unflinching 'history of the daily existence of children until their escape, liberation, or death.' . . . The first scholarly study of children and the Holocaust. Perhaps the most valuable revelation in Children With a Star comes in the first section, entitled 'The Recognizable World.' . . . She not only adds a missing chapter to Holocaust literature, she makes the important point that there was more than one form of courage and one genre of resistance at work in Nazi Europe."—Joel Yanofsky, Toronto Globe and Mail
"What really happened to [Anne Frank] and to an entire generation of Jewish youth is contained in Dwork's Children With A Star. . . . If it sometimes seems as if there is nothing new to be said about the Holocaust, Dwork's book is a reminder that that's not the case. Astonishingly, it is the first scholarly study of children and the Holocaust."—Joel Yanofsky, Toronto Globe and Mail
"A heavily footnoted and obviously well-researched study. . . . Extremely readable. . . . A major contribution of Dwork's work is documenting the heroic attempts of women, both Jewish and gentile, to save children. . . . Well-researched material. . . . This is information about a heretofore poorly understood aspect of Holocaust resistance, the definition of which has usually been limited to ghetto fighters, network couriers in occupied Poland, and valiant mothers facing hopeless odds."—Michael W. Rubinoff, Washington Jewish Week
ISBN:
9780300054477
Publication Date:
September 10, 1993
380 pages, 6 x 9