Southeast Asia in the Age of Commerce, 1450-1680
WARNING
You are viewing an older version of the Yalebooks website. Please visit out new website with more updated information and a better user experience: https://www.yalebooks.com
Volume One: The Lands below the Winds
Anthony Reid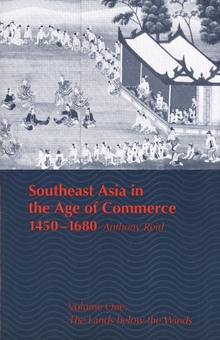 View Inside
Format:

Paper


Price:

$32.00
Between the fifteenth and the mid-seventeenth centuries, when the Renaissance and early capitalism were transforming Europe, changes no less dramatic were occurring in Southeast Asia. This diverse tropical region was integrated into a global trade system, while trade-based cities came to dominate its affairs. Its states became more centralized and absolutist, and its people adopted scriptural faiths of personal morality. The pace of these changes finds parallels only in our own era.

Anthony Reid has analyzed and vividly portrayed this Southeast Asian Age of Commerce in two volumes. The first volume, published in 1988 to great acclaim, explored the physical, material, cultural, and social structures of the region. The concluding volume focuses on the profound changes that defined the Age of Commerce as a period. The spice trade that animated the global boom of the sixteenth and early seventeenth centuries made possible revolutionary changes in urbanization, commercialization, state structure, and belief. Islam, Christianity, and Theravada Buddhism made rapid gains in alliance with the new states. Reid discerns common ground between these developments and the forces transforming Europe and Japan but identifies particular limitations on the growth of private capital and the stability of states in Southeast Asia. A final chapter explores the crisis in the mid-seventeenth century that disengaged Southeast Asians from the world economy for the next three centuries.

Anthony Reid is professor of Southeast Asian history, Research School of Pacific Studies, Australian National University.

"A most impressive piece of work which rests upon a vast range of evidence. . . . Reid's two volumes together set a new standard for the historical study of Southeast Asia as a region."—M. C. Ricklefs, Economic History of Southeast Asia


"Superb scholarship. The book is sound, original, and clearly written."—John Bowen, author of Sumatran Politics and Poetics


"With Asia reasserting its role in the world, this book is timely reading. Clear, accurate and intricately researched, it will contribute greatly to anyone's understanding of Southeast Asia."—Asiaweek


"A fascinating and well-researched account of Asia's teeming commercial world."—Choice


"A fine-grained yet broad-gauged . . . view of politics and economics in the same period. It is clearly and unpretentiously written, superbly researched, and deftly generalized. Together with its companion volume, this book begins a new generation in the study of early modern Southeast Asia and, inevitably, in the way the entire region is perceived. . . . [Reid] offers us . . . a multitude of substantive and intriguing possibilities for investigation and debate."—William H. Frederick, Historian


"[A] magnificent panorama of Southeast Asia in the age of commerce. . . . Reid's two volumes provide an exhilarating overview of an important area of the globe during a crucially important time; they represent by far the best, most comprehensive study available. . . . They will serve us for many years to come."—Edwin J. Van Kley, American Historical Review


"Reid offers a large, broad-brushed, brightly colored canvas of carefully gleaned and finely hones detail. . . . Reid's comparative perspective lends considerable explanatory power to his treatment of the multifaceted changes in Southeast Asia. He masterfully synthesizes the broad theses of comparative economic history with his detailed portrait of the lands of Southeast Asia most influenced by the age of commerce."—Robert J. Donia, Journal of Economic History


"Expansion and Crisis will be basic reading for students and scholars in Southeast Asian studies for many years to come. The book is destined to be regarded as a classic of twentieth-century writing on Southeast Asian history."—John N. Miksic, Journal of the Economic & Social History of the Orient
ISBN:
9780300047509
Publication Date:
September 10, 1990
272 pages, 6 1/8 x 9 1/4
51 b/w illus.