Explanation from Physics to Theology
WARNING
You are viewing an older version of the Yalebooks website. Please visit out new website with more updated information and a better user experience: https://www.yalebooks.com
An Essay in Rationality and Religion
Philip Clayton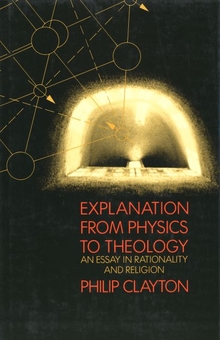 View Inside
Format:

Cloth


Price:

$58.00
In this book Philip Clayton defends the rationality of religious explanations by exploring the parallels between explanatory effects in the sciences and the explanations offered by religious believers, students of religion, and theologians.
Clayton begins by surveying the types of religious explanation, offering a synopsis of the most significant competing positions.  He then critically examines recent important developments in the philosophy of science regarding the nature of scientific explanations—including the work of Popper, Hempel, Kuhn, and Lakatos in the natural sciences and Habermas, Weber, and Schütz in the social sciences.  Clayton outlines the process of rational evaluation in these disciplines, defining the explanatory quest as the attempt to make sense of or bring coherence into subjective and intersubjective worlds.  He briefly discusses explanations in philosophy and then turns to the explanatory role of individual religious experience, drawing on a coherence theory of meaning and on the conclusions from his discussion of science.  Based on his defense of the doubting or "secular" believer, he concludes by advocating a model of theology in which questions about the truth of a religious tradition are intrinsic to its theology. 
"A valuable exposition of the thesis that the explanatory work of theology possesses formal similarities with that of the physical sciences, the social sciences, and philosophy.  Clayton exhibits an impressive command of a broad area of scholarship, and his reflections are balanced and carefully argued." –Michael J. Buckley, S.J., professor of religion at the Jesuit Theological Seminary and author of At the Origins of Modern Atheism
"I know of no philosopher writing today who has dealt in as informed and thoughtful a way with the broad subject of this book.  Clayton guides the reader through important discussions with ease, illuminating the path all along the way." –Josiah B. Gould, professor of philosophy at the State University of New York, Albany. 
"The book merits serious considerations for its rich and critical discussions."—Abrahim H. Khan, Philosophy of Religion
"Clayton offers in this work a state-of-the-art example of contemporary theories of rationality in the sciences and theology. His critiques of foundationalism and propositionalism are cogent and humble and his reconstruction from the hermeneutical perspective is convincing."—B. Keith Putt, Southwestern Journal of Theology
"This insightful technical study provides important resources for further discussion. Especially suggestive are Clayton's development of religious meaning-sketches, rationality as intersubjective criticizability, and an expanded notion of coherence linking meaning and truth."—Stephen L. Stell, Religious Studies Review
"Clayton has given us a thoughtful and insightful account of the current state of play for a rational theology which sensitive to secular thought."—Mary Hesse, CTNS Bulletin
"In his elegantly-written Explanation from Physics to Theology, Philip Clayton explores the sense in which religious beliefs are explanations."—Paul Helm, Times Higher Education Supplement
"Clayton identifies several types of religious explanation and relates these to the faith/reason debate in Western religious thought. . . . His complex and challenging essay, enhanced by notes, bibliography, and index, will be most interesting to philosophers of religion and theologians, but graduate students and upperdivision undergraduates might also find it useful."—Choice
"I know of no philosopher writing today who has dealt in as informed and thoughtful a way with the broad subject of this book. Clayton guides the reader through important discussions with ease, illuminating the path along the way."—Josiah B. Gould, State University of New York, Albany
"A valuable exposition of the thesis that the explanatory work of theology possesses formal similarities with that of the physical sciences, the social sciences, and philosophy. Clayton exhibits an impressive command of a broad area of scholarship, and his reflections are balanced and carefully argued."—Michael J. Buckley, s.j., University of Notre Dame
ISBN:
9780300043532
Publication Date:
September 10, 1989
256 pages, 6 1/8 x 9 1/4