Antifascism in American Art
WARNING
You are viewing an older version of the Yalebooks website. Please visit out new website with more updated information and a better user experience: https://www.yalebooks.com
Cécile Whiting

Read this book online via the A&AePortal, our art and architectural history eBook platform. To learn more about how to access this book, please contact us.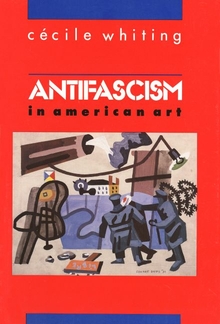 View Inside
Format:

Cloth


Price:

$65.00
Also Available in:
Art ePortal
Out of Print
Between 1933 and 1945, American painters of widely divergent political views and artistic styles shared a belief that their art should aid in the fight against fascism. In this engrossing book Cecile Whiting presents the first thorough study of the politically motivated art of this period.
Whiting shows how the various manifestations of antifascist art negotiated the competing demands of artistic conventions, aesthetic and political theories, and historical developments. She explores the art produced by the radical Left in the early 1930s and social-realist art of the late 1930s. She looks at the way in which Stuart Davis reconciled modernism with antifascist politics by celebrating American democracy through semi-abstract paintings, and how the regionalists Grant Wood, Thomas Hart Benton, and John Steuart Curry strengthened American patriotism with nationalist myths and propaganda for the Allied cause. Whiting explains that as such overtly political and nationalist art came under fire for resembling the propaganda of the enemy, social realists and regionalists alike sought to endow some of their paintings with more universal appeal. She concludes by examining the myth paintings of Mark Rothko and Adolph Gottlieb, which not only captured a sense of the chaos and violence of the war but also challenged the way Nazi, regionalist, and social-realist artists used myth for nationalist political purposes. The dominance of abstraction in the post-war art world, says Whiting, was the direct legacy of this contentious artistic debate on how best to use art in the service of antifascism.

"Whiting's book is important for a number of reasons. It adds to our understanding of the work of certain key American artists. It heightens our awareness of the complex relationship between written and spoken interpretations of works of art and the works themselves. It adds historical insight into the rationales behind the ongoing realist-modernist debates. And, perhaps most importantly, it alerts us to the great quantity of artistic production that has been lost from intellectual view over the past thirty or forty years because of the art history profession's focus on modernism."—Frances Pohl, Archives of American AA Journal

"Cecile Whiting's research concentrates on the period between 1933 and 1945, seriously examining the production of antifascist visual images in both popular and high cultural realms."—Steven Dubin, Contemporary Sociology
"A brilliant new perspective upon this crucial movement in American culture."—Eric Homberger, Times Higher Education Supplement




"Obviously a careful and useful compilation; it will be a valuable source for others working on American art of the 30s and 40s."—Martin Green, Art in America
"The book is meticulously researched and well illustrated and throws a fascinating light on a rather neglected chapter in the history of American painting."—Anthony Stones, Museum News
"In this first thorough study of art that confronted fascism from 1933 to 1945, Cécile Whiting . . . engagingly interweaves analysis of American painting and illustration with the demands of artistic conventions, historical developments, and aesthetic and political theories to trace the effects and manifestations of antifascist art. . . . Beyond the finely formulated and documented study this book represents is a network of ideas central to the issue of how ideology and aesthetics intersect. . . . Like all thoroughgoing studies of this sort, Whiting's book provides astute analysis of the sanctioned exemplars within the field . . . but also accurately recovers and reassesses the more topical and popular examples of antifascist art in print, illustration, and cartoon often lost in larger histories. Excellently researched, impeccably written, the book is an important contribution to both political and cultural history. It stands as a significant model for art historians as well."—Shelley Armitage, Journal of American History
"Whiting's study is indispensable for understanding how American artists responded to fascism between 1933 and 1945. . . . [She] offers many insights as she finds new relationships between styles and political thought. She carefully explores social realism, proletarianism, and changes of vision. Beginning with antifascist prints in radical magazines, she offers new perspectives on many artists. . . . The work . . . creates a fresh, insightful reevaluation of this neglected period of American art."—Choice
"Well-balanced, free of partisan cant, and insightful, this book should become a central text for the period. It is also a wonderful read."—Matthew Baigell, Rutgers University
ISBN:
9780300042597
Publication Date:
September 10, 1989
272 pages, 7 x 10